UVSC Session Report
November 27, 2017 (Session #158)
(authored by BJ)

For the second week in a row we had the good fortune of being joined by
new players. This time it was Dov and Yael, who recently learned of the
UVSC and decided to stop by and check it out. Both of them were focused
on learning the formalities of the competitive game while at the same
time enjoying the game we all love with a new group of players. Margaret
also joined us again, and along with Iliana, Ellen, and myself, we again
had good numbers for our tiny but growing club!

With some tasty snacks and beverages at hand as well as a little
background music, we all enjoyed the good company and the chance for new
opponents and wordy camaraderie. All of the new players held their own
well against the seasoned veterans, showing the strength of their home
Scrabble experience despite the unfamiliar requirements of using a
clock, dual scorekeeping, formal challenges, and so on. Before long
those things will be second nature to them just as they are to the
veterans, and then I expect they'll be even tougher to beat!

Among the good words that were played tonight, Ellen's SHEQEL ("an
ancient unit of weight or money") stands out as one of the most
interesting. It's one of the Q-without-U words that don't show up very
often. Rumor has it that QIVIUT ("the wool of the undercoat of the musk
ox") almost got played, too, but there was nowhere to put it. Other good
plays included: RETINOL, CLEAROUT, ALIMENT, DERIVATE, TUNNAGE, HOOKIEST,
RESINATA#, ALLODIA, AGONISTS, COINTER, PERCALE, LINIEST, and
DEALINGS. The highest recorded non-bingo was SHYER for 57 by Margaret.


An ancient coin, or sheqel: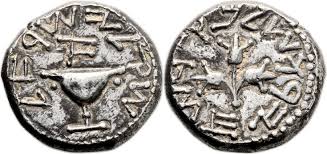 A musk ox, whose furry undercoat is known as qiviut: